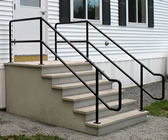 Our standard & modular precast concrete steps come in the following widths: 4ft, 5ft, and 6ft with up to 6 risers. Standard platform landing is 4 ft.; Optional platform landings are available in 24 inch, 36 inch, & 42 inch depths.
Our precast steps are perfect for a variety of outdoor stair needs including but not limited to: mobile home steps, porch steps, patio steps, as well as manufacturing and business stair applications.  Our precast steps are lighter then poured in place concrete stairs and self supporting which make them less expensive and more easily moved.
These prefab stairs are also available with customizations such as brick veneer, granite treads, and custom colors.  Whatever your need for precast concrete steps we have the perfect solutions. 
Contact Us
today and let us know what we can do for you.